Six years after setting foot in Africa for the first time, in Bagamoyo, Tanzania (East Africa; English-speaking country) for an international meeting of the formators of our congregation, I have returned for the second time to this continent, the cradle of our evangelization mission, which continues to concentrate most of our missionary forces to this day! This time, I was welcomed on the West Coast of Africa, in Senegal, a French-speaking country! It was again a meeting of formators, with a particular objective, that of reflecting on the formation of the thousand young Spiritans of our congregation and giving orientations for the next General Chapter of the congregation which will take place in Poland in2020 – general chapters occur every eight years. We were thirty formators gathered, delegates from our houses of formation in the countries where we work, coming from all continents. As always, the work and conferences were given in the three languages of the congregation (English, French, and Portuguese) with a team of translators at our service. I am lucky to be comfortable in the three languages, so I didn't need a translation. Most of the confreres speak at least two or even three languages. At the meal, we also heard Swahili, an international language in Africa.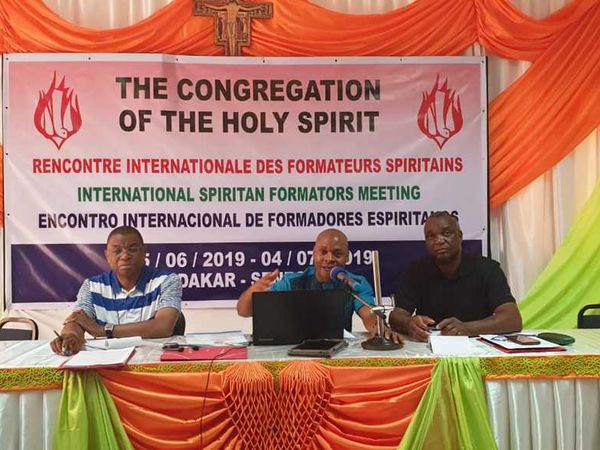 Meeting confreres who work in formation is always a pleasure. They are experienced people. Generally, they have a good level of maturity and above all a good spirit of sacrifice. I realized that in many provinces, there is a lack of formators. Few confreres make themselves available for this kind of work. I thought that the shortage of formators was a specific problem in Vietnam or India where we are not many confreres up to the point that everyone here is asked to work information!
With respect to training issues, there are similar and different challenges in each country where we work. In many communities, the ratio between formators and students is not satisfactory. A unique formator or even two must often accompany more than ten students. Finances are a challenge since we have to feed all these young men and provide for their studies as well. The length of the formation (ten to twelve years) is perceived as a heavy burden both for the formators who have to stay in the job for many years and for students who are eager to move up to the next step, the active missionary life. Even so, there is still a strong desire among many confreres to do advanced studies at the end of their initial formation. Intellectual formation is essential, but we also learn so much once we get to practice when we do missionary work! The missionary stage (also called pastoral missionary experience), which lasts two years, is often pointed out as deficient in terms of accompanying the young brother and letting him take initiatives aiming at developing his own talents. The temptation is to reduce the stage to one year, but more than discussing the length of the stage, it seems that it is its content that needs to be reviewed. This is not a simple matter. We ourselves had young Vietnamese people delighted with their stage and others who felt bored and prayed that the end of the stage would come as soon as possible…
We listened to some talks given by several of our confreres, some of them were more relevant than others. I enjoyed the talk about the use of the media in the lives of young people. Internet is a wonderful tool, essential for academic research. It opens many horizons related to today's world, but it can also enclose the young person (and the old confreres as well!) in his small cultural world of origin. Internet and new technologies are also very much time-consuming. When people are on the net, they sacrifice time that they could have spent on something else, and of course it also can create unhealthy dependencies (unhealthy chats, narcissism, pornography, violence, continuous distraction). It is up to the formators to encourage young people on the road to new technologies with some self-discipline at the same time. Formators should be an example for the younger generations… On the whole question of affectivity, we were also reminded of the psychological tools at our disposal (in particular psychological evaluation given by a professional or some general evaluation grids) as well as the fact that any pastoral relationship must be frank, unambiguous. It combines spontaneity with people but also prudence, depending on what people we meet and under what circumstances. Here too, self-knowledge is important as well as experience that can make us grow or regress.
I went back to Vietnam motivated after these two weeks of meeting and exchange. I must say that more than the meeting or the friendships created between the formators, it is the enthusiasm of the young Vietnamese people that motivates me to continue my work as a formator. Young Vietnamese have a good spirit of service. They want a serious relationship with the Lord, they are eager to listen to the experience of the experienced confreres, and they prepare for the mission of tomorrow. May God give me and all my confreres throughout the world the courage, perseverance, and joy in our work as formators!